10 January 2023
8 days to go!
Robert Engelbrecht and I are fine tuning the procedure of the opening ceremony.
Many great musicians and composers are guests of this years' klub katarakt
15 November 2022
Planing the first opening in three halls with a wandering audience for klub katarakt in January 2023 after three years. Exciting!
27 October 2022
Pianist Ju-Ping Song will play my piece piano and e-bows in a concert at Delaware County Community College at 5 pm. Q&A to follow the performance.
9 September 2022
Nelly Boyd Ensemble will play my piece giration de l'espace for four melodicas. Other pieces by Johann Popp and Robert Engelbrecht.
18 June 2022
Playing a concert with Nelly Boyd and our guests Silvia Tarozzi and Deborah Walker. We will present a new set of collective compositions. Silvia and Deborah are the first guests who we have invited to our collaborative Whirligig project, and we are excited to play the premiere of the six new pieces of Open Whirligig 6 together with them. Christina Engelbrecht will again project light on us.
22 January 2022
World premiere of giration 4.2 at klub katarakt 17.
The new piece is for two female voices, four electric guitars played with e-bows and prerecorded drones.
Musicians are Moxi Beidenegl, Johann Popp, Robert Engelbrecht and me from Nelly Boyd with our dear friends Donghee Nam (from Frankfurt) and Fiona McKenzie.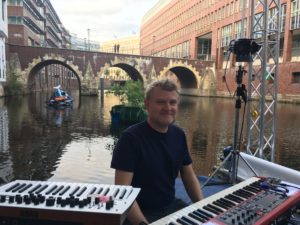 14 August 2021
Finally a live concert!!!
I will play with Nelly Boyd at Westwerk's Reclaim the Fleets.
We will perform a new set of compositions called WHIRLIGIG 34.