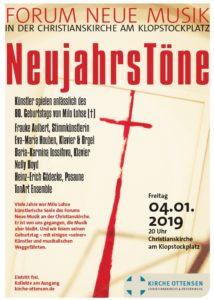 Friday, January 4, 20:00
Christianskirche am Klopstockplatz
Hamburg Altona
We will play in a concert for our late friend and furtherer Milo Lohse who died last year. Milo was the founder and organizer of the concert series "Forum Neue Musik" in the Christianskirche. We miss him!
Also participating are Frauke Aulbert, Eva Maria Houben, Daria Iossifova, Heinz Erich Gödicke, Thomas Niese and TonArt Ensemble.
We will play Criss-Cross (2013) for two electric guitars by Alvin Lucier.